Resources for Prayer at Home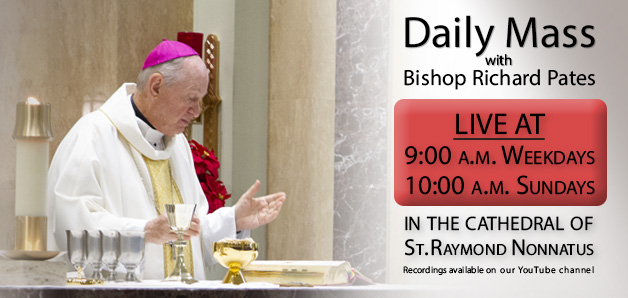 (After you click on the link, scroll underneath the video for a Mass response and prayer card)
(Interactive)
(From current live-streaming Adoration Chapels)
FREE Magnificat Resources
In addition to its online edition, MAGNIFICAT is now offering complimentary access to its iOS and Android Apps throughout May. To register for free access in English, visit www.magnificat.com/free. For free access in Spanish, visit and register at www.magnificat.com/gratis.

We are also happy to make available complimentary access to MagnifiKid. Visit www.magnifikid.com/free to view and download each weekly booklet of our colorful Sunday missalette for children ages 6 through 12. While so many children are missing formal religious instruction and are unable to attend Mass, MagnifiKid! can be their special guide, accompanying them through each week as they prepare to attend Mass or watch it at home.
Prayer to Our Lady of Guadalupe During COVID-19 Pandemic
by Archbishop José Gomez
Holy Virgin of Guadalupe,
Queen of the Angels and Mother of the Americas.
We fly to you today as your beloved children.
We ask you to intercede for us with your Son,
as you did at the wedding in Cana.

Pray for us, loving Mother,
and gain for our nation and world,
and for all our families and loved ones,
the protection of your holy angels,
that we may be spared the worst of this illness.

For those already afflicted,
we ask you to obtain the grace of healing and deliverance.

Hear the cries of those who are vulnerable and fearful,
wipe away their tears and help them to trust.

In this time of trial and testing,
teach all of us in the Church to love one another and to be patient and kind.

Help us to bring the peace of Jesus to our land and to our hearts.