Our Catholic faith is rich in history, tradition, ritual, symbol, and song,
and we at Ascension of Our Lord Parish are excited to be part of your spiritual journey.
Grief Support
A Healing Walk with Others this Summer
Tuesdays from 1 p.m. - 3 p.m. in the Teen Zone
July 9, 16, 23, 30
August 6, & 13
Have you experienced the loss of a loved one through death? Perhaps a friendship came to an end? Maybe a job that brought you so much life no longer exists. We all experience loss more often than we think. Sometimes that loss can take a toll on our own self. A six-week grief support session will begin on Tuesday, July 9th from 1pm-3pm. For some, it is helpful to go on this journey with others. While no two people experience grief the same way, one can rest in the fact nobody has to grieve alone.
As we take a Healing Walk with Others this Summer, may it become a time that brings peace.
Registration is helpful, but not mandatory.
Summer Education Series on the Sacraments!

Looking for something to do this Summer? Can you identify all seven sacraments in the image below? Join us for a four-part series on the
Sacraments on Wednesdays from 1 p.m.—3 p.m. on July 10, 17, 24, & 31st in Corpus Christi Hall.


July 10th: The Sacramental Economy
July 17th: The Sacraments of Initiation
July 24th: The Sacraments of Healing
July 31st: The Sacraments of Service
Registration is helpful for materials.
There is no cost to attend.
Registration is now open for our Religious Education Program for grades K-8. Our program meets on Tuesday evenings from 6 p.m. - 7:15 p.m. from September - April.
New families are welcome to register at any time! Please contact Mr. Zaprzal in the Religious Education Office for an appointment.

Returning Families:
Registration forms were mailed on May 15, 2019. Registration forms must be returned by Wednesday, July 31, 2019. Returning family registration forms will be accepted after that date, but with a late fee assessed.
Tuition: There is not an increase in tuition for the 2019-20 school year. The tuition rate in all-inclusive, no extra fees!

1 Child $295 2 Children: $325 3+ Children: $355
What is it?
Children's Liturgy of the Word is a ministry offered at each Sunday, 10 a.m. Mass from September - May. The idea behind Children's Liturgy of the Word is to take young children (Kindergarten through 3rd grade) and help them understand the Sunday Gospel for the week, in language meant for them. Young kids often do not understand the adult language used during Mass, and since they are so young, their attention is often focused elsewhere. This makes Mass less engaging for them, and more work for their parents.
During Children's Liturgy of the Word, the leader will take the children to Marian Place, which is the area with the sofa and chairs just down the steps from the Narthex of the church. There, the leader will read the Gospel with them, using approved materials meant for children, followed by questions on how the Gospel reflects in their life, as well as coloring, crossword puzzles, word finds and crafts. Each session is usually about 20 minutes long. It starts right before the First Reading with a dismissal in Church often led with a prayer from the Priest or Deacon. It will end at the conclusion of the Prayers of the Faithful (petitions).
Our goal is to help our children be excited about the Gospel and church, by having it be more relatable to them, and also to give parents an opportunity to be able to focus on the Mass, while knowing their kids are being thought of as well. Please support us and encourage your children to spend time with us in learning about the Gospel each week!
Our third and fourth graders participated in an All Saint's Day Prayer Service on November 13th, 2018. Each student talked about a few facts of the Saint chosen and why he or she chose that Saint!


Can you guess who some of them are?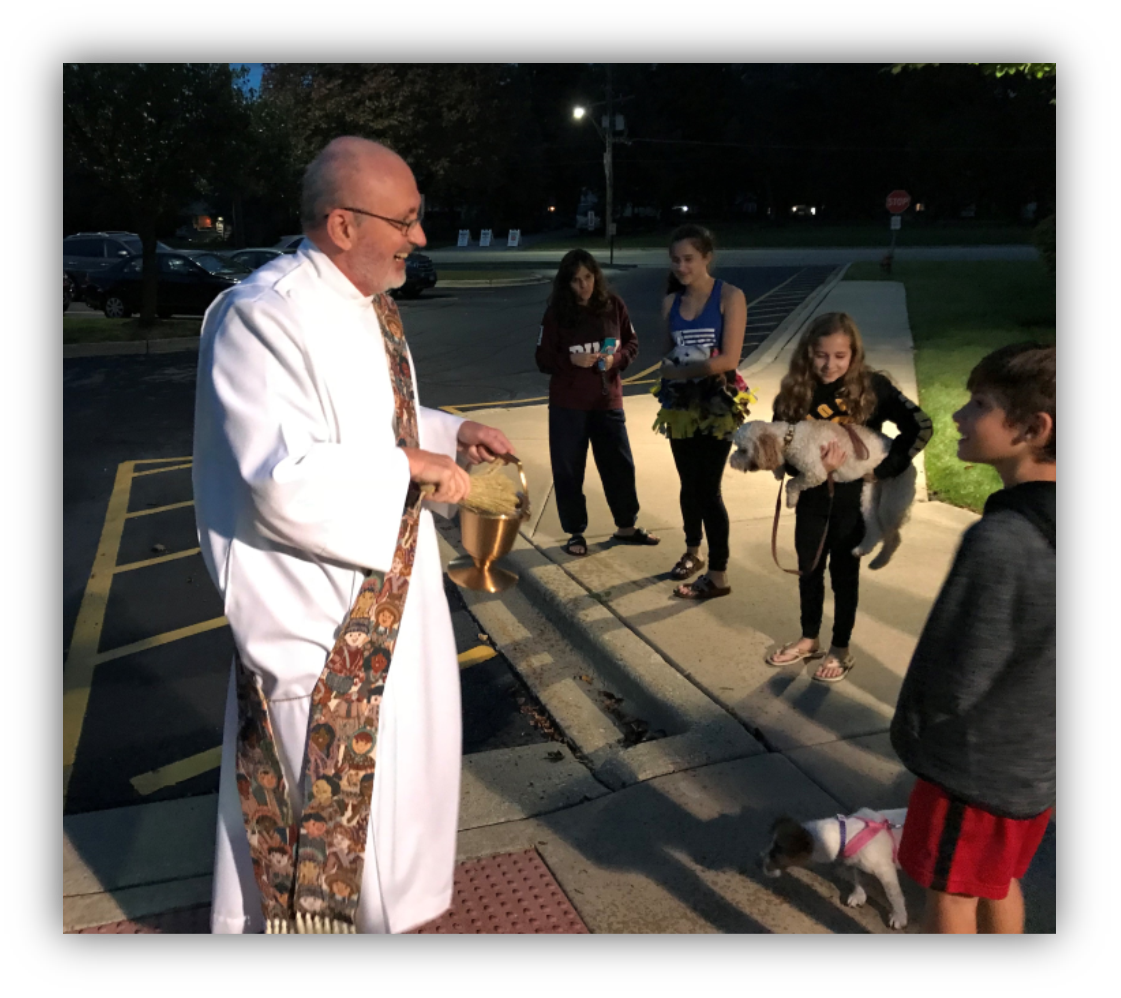 Our Religious Education Program parishioners came together for a prayer service led by Deacon Peter and Paula Rooney on Tuesday, October 2nd, 2018.


Saint Francis of Assisi is the Patron Saint of Animals.